More info
With the Pilot level of Wings' XP (eXPerience) software you have the ability to convert any True Type or Open Type Font into Satin, Zig-Zag, Step, Running or Piping Text art design. Create the Text art design you want easily by using the Font that your customer requested, enjoy the highest embroidery quality and the ability to adjust the parameters of the design in order to meet your preferences.

With the Pilot Level of eXPerience you can select between 256 Pre-digitized fonts that Pilot includes and use them to create your own Text art designs.

Pilot also includes basic digitizing abilities that allow you to create and edit designs with Manual, Running, Satin, Step, Zig-Zag, and Piping stitches.


Pilot features overview
Modern, user-friendly interface that is easy to learn and help you become more productive. Includes a special file manager from which you can manage your embroidery designs and connectivity with the majority of embroidery machines.
Includes a high-end 3D engine and embroidery simulation ability that allows you to visualize the final embroidery results, thus saving you time from testing on the embroidery machine.
Basic shape and text editing abilities that include Scale, Rotate, join and break apart objects, along with the ability to place text on a path or in an envelope.
Complete text insertion abilities with automatic True/Open Type font converter and many pre-digitized fonts to choose from.
Stitch editor with which you can insert, move and delete stitches, together with many automatic stitch optimization tools and stitch type adjustments that can enhance the embroidery quality.
Basic digitizing abilities with Manual, Running, Satin, Step, Zig-Zag, and Piping stitches, a complete Clipart with hundreds of reusable embroidery designs and an automatic engine that converts bitmap images to cross-stitch designs.
Text art designs are in the everyday embroidering schedule of most embroiderers. With Pilot level of eXPerience you have all the lettering abilities that the software includes and can help you create unique Text art embroidery designs. If you want more editing and digitizing abilities from eXPerience move to Operator level.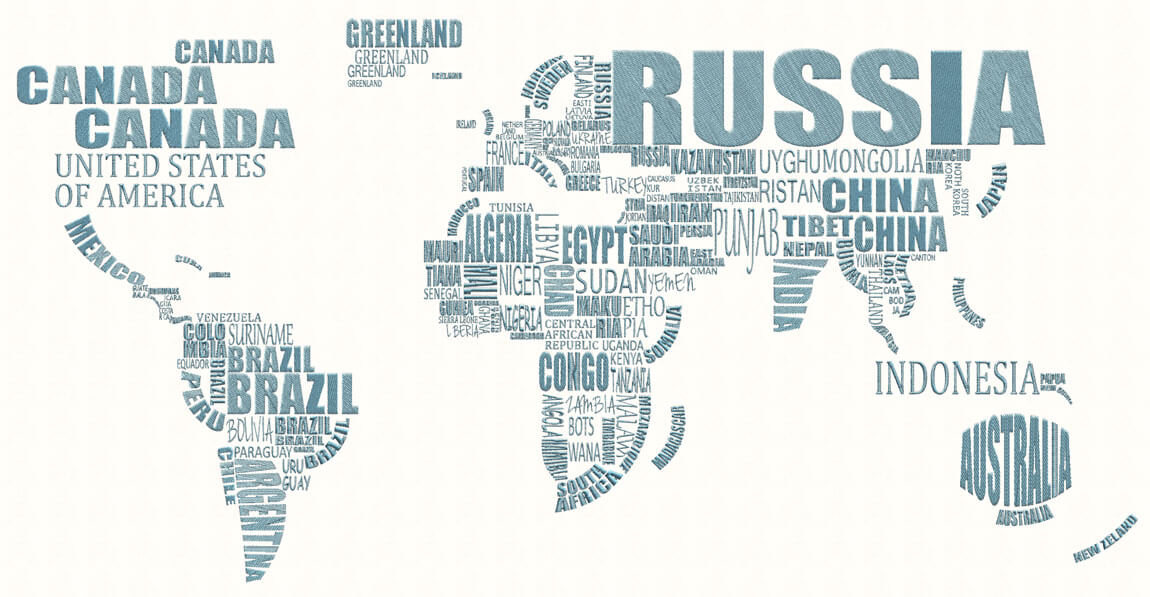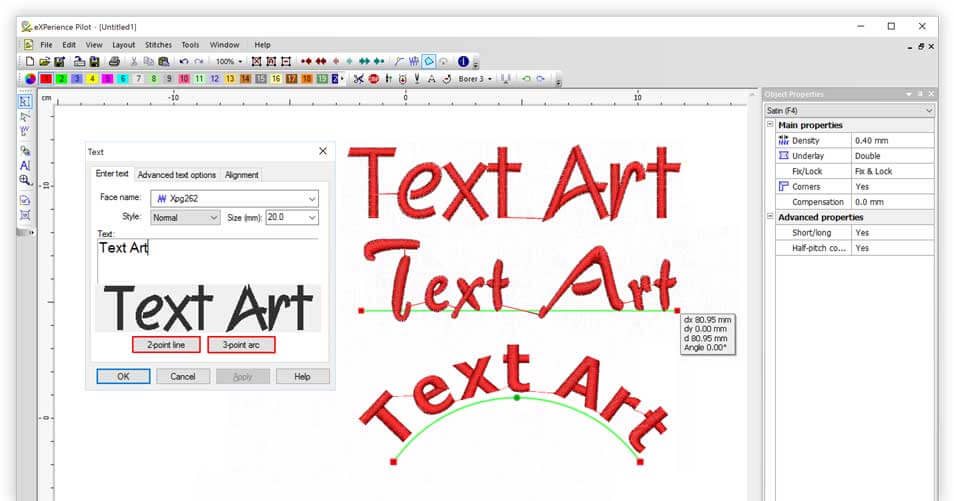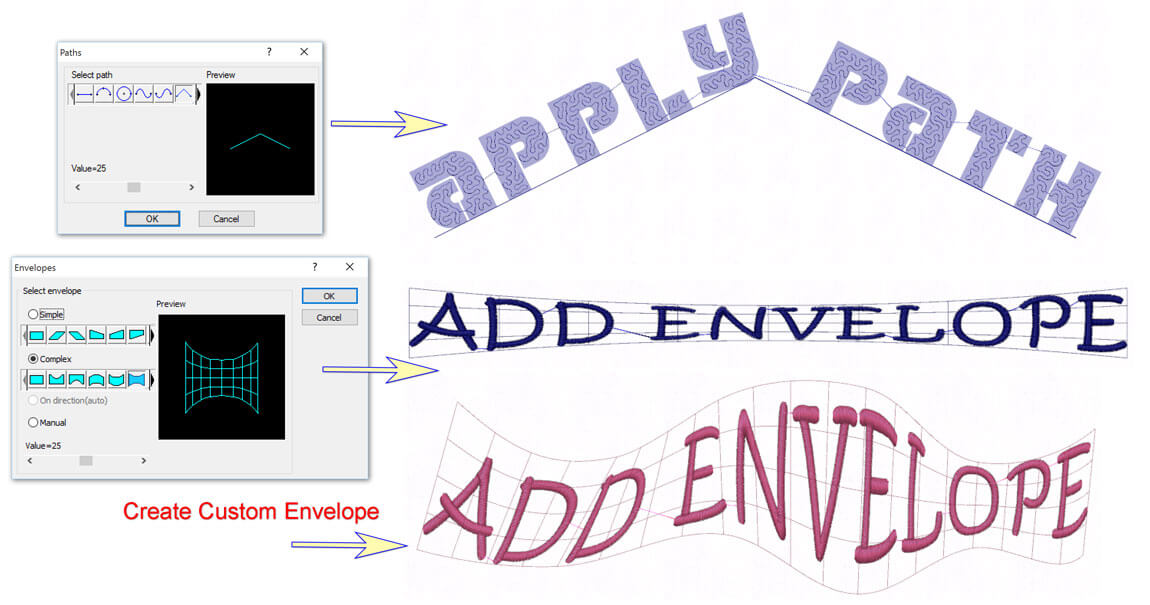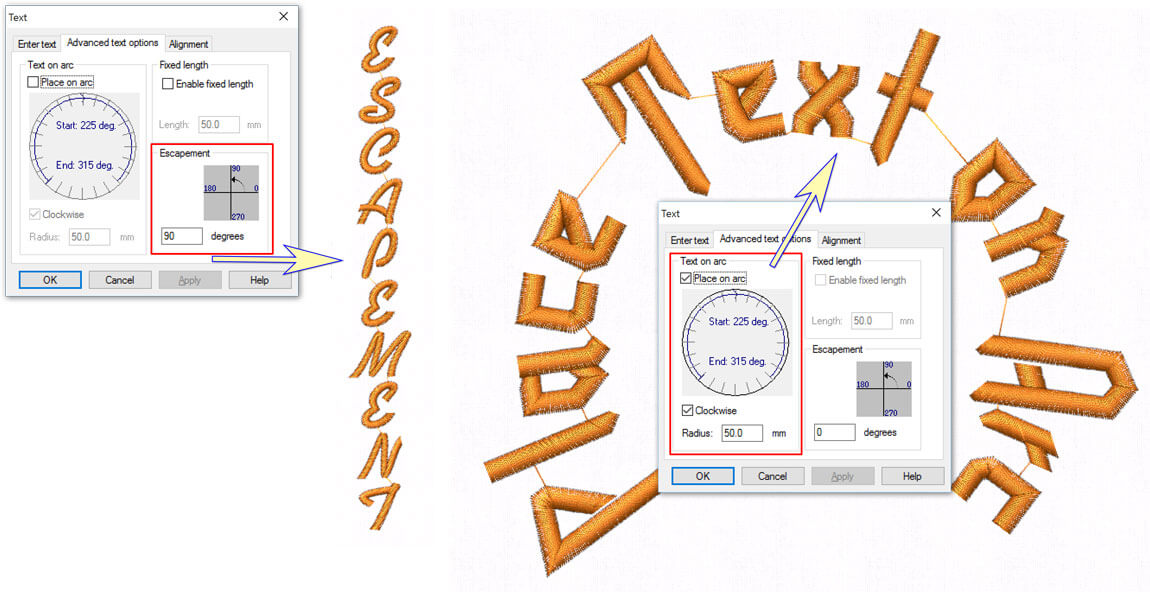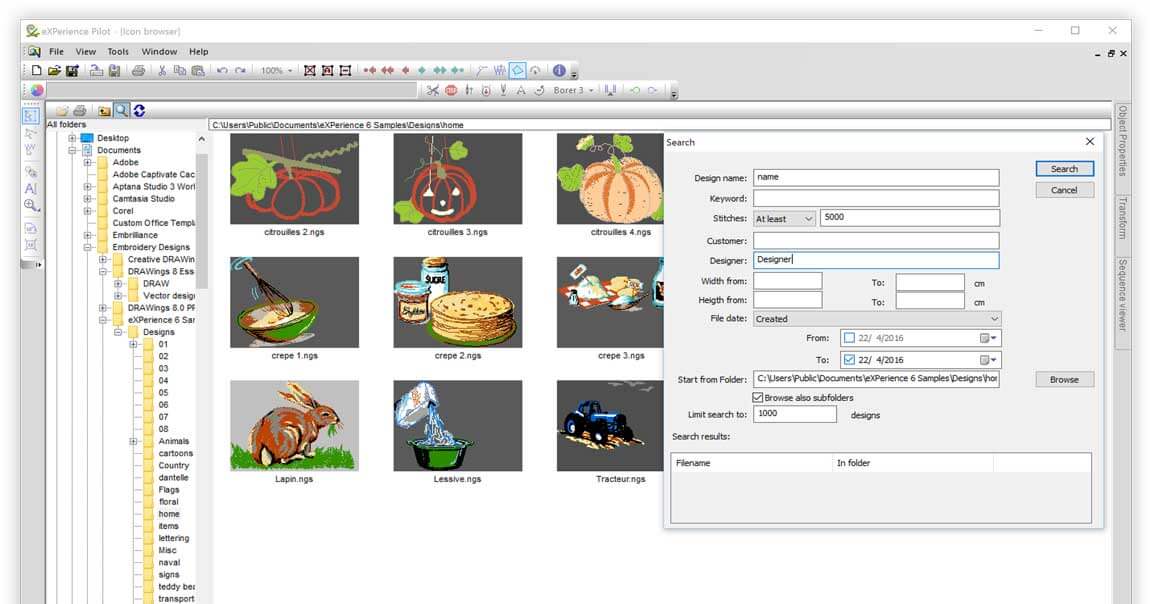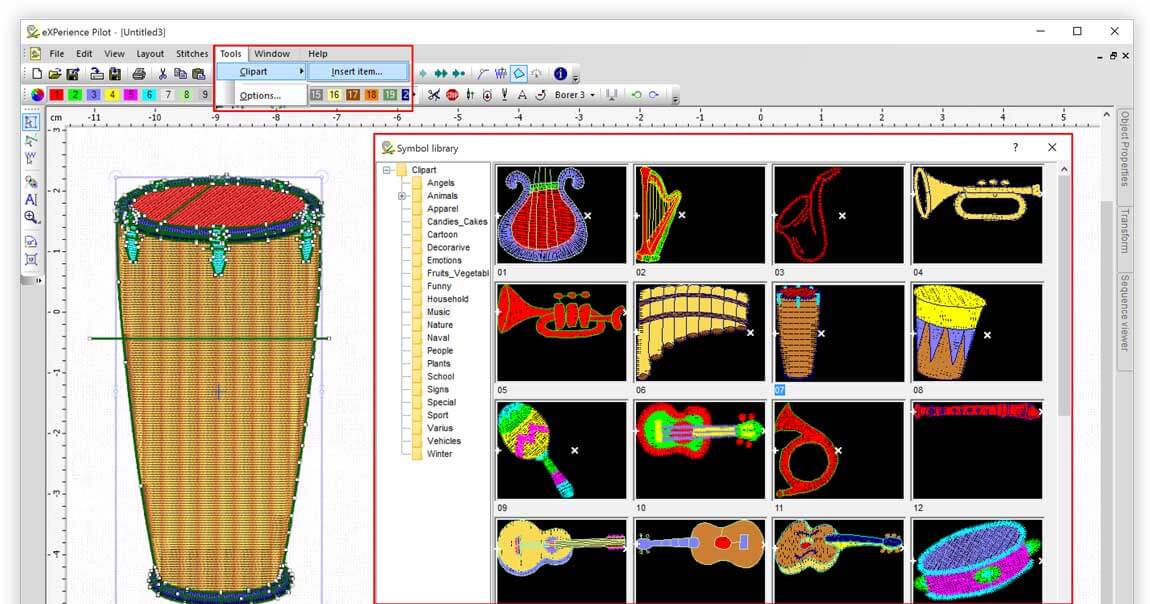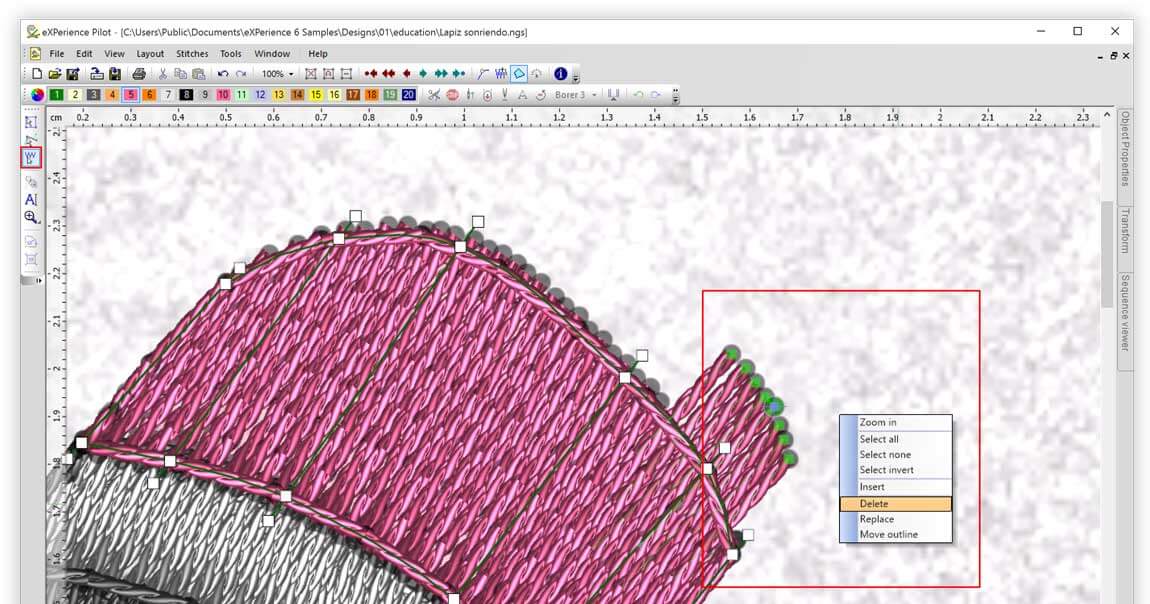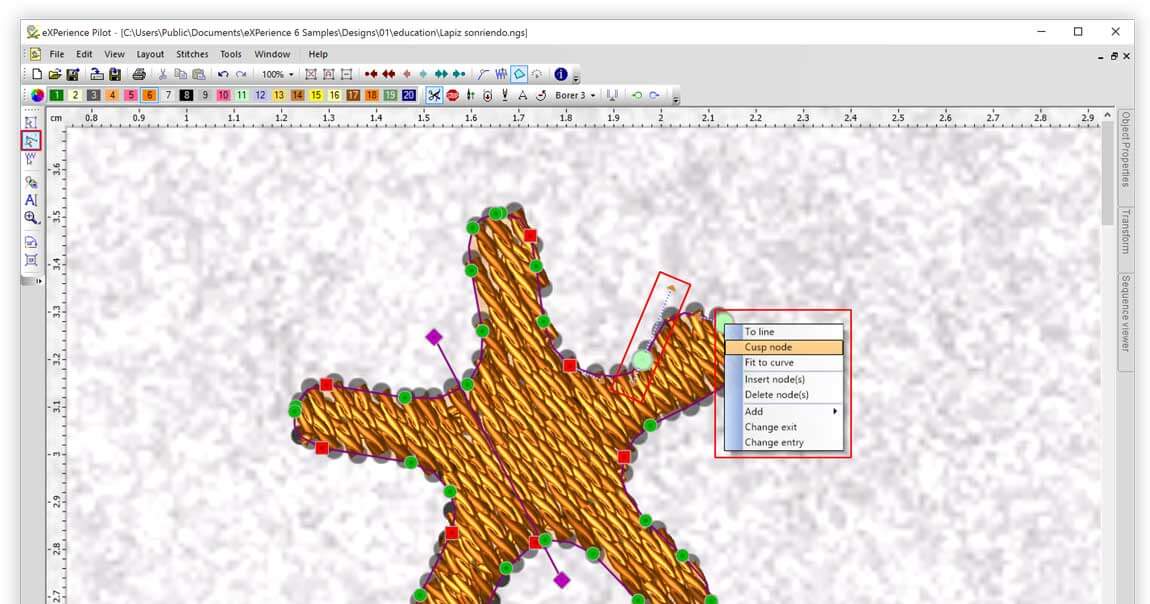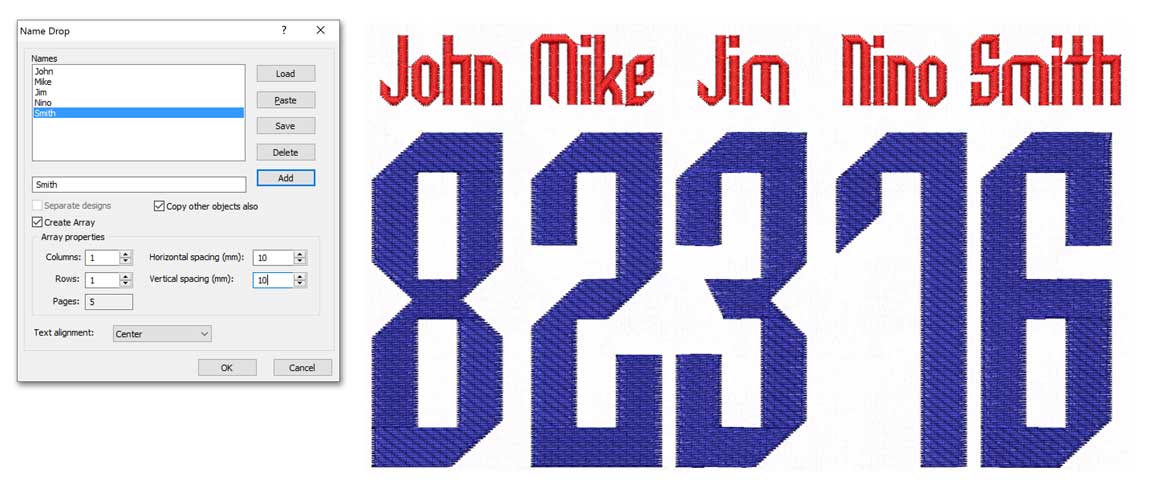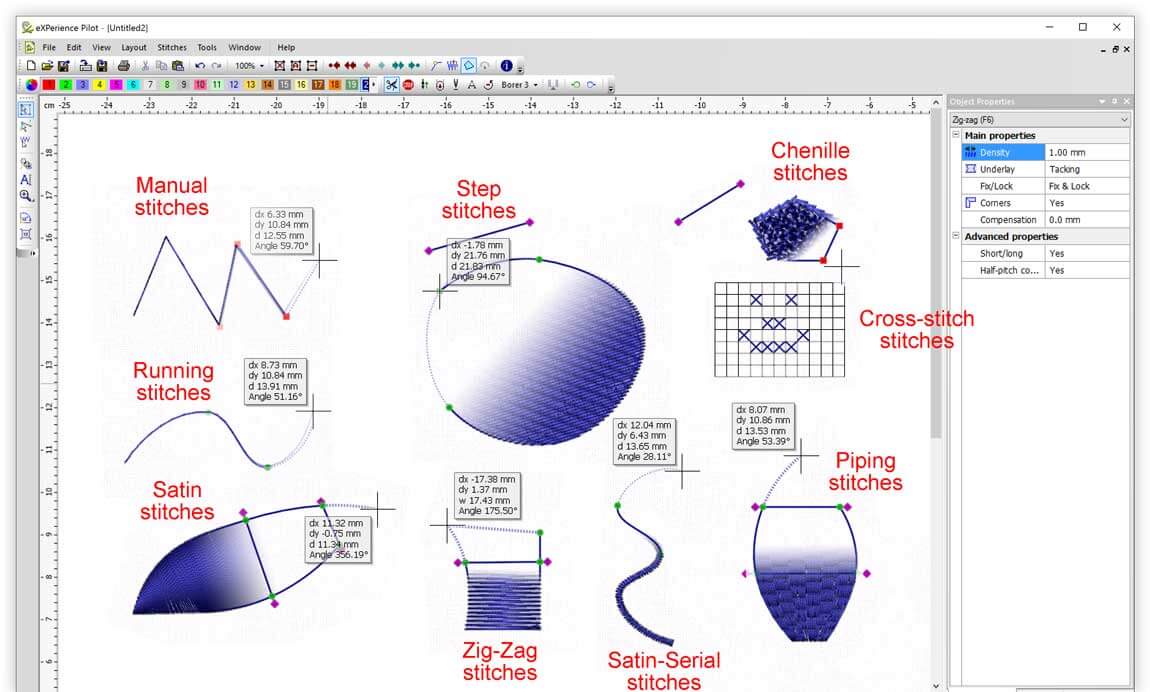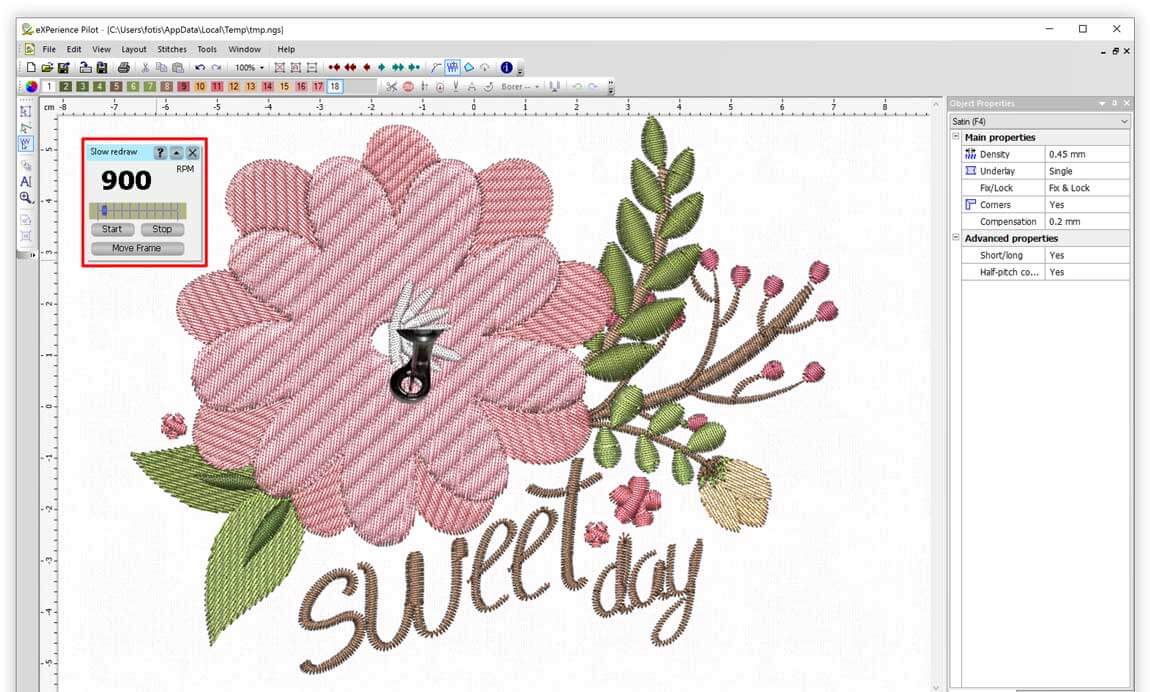 General features
Open & Save common design formats
Import Floppy
Icon Browser for search , manager designs Create folder
3D View & Print Design Info
Tidy Up short stitches for the entire design
Change design Start/End points
Show stitch points and sewing simulations
Remove small stitches to improve design quality
Direct connection with most existing embroidery machines.
Show Design Information, Calculate thread usage and machine time.
Set 3D light source
Scale and Rotate objects
Add new text string to existing design
Create new design (only text string)
Lettering in line, arc, circle with rubber band
Envelope, Lettering in predefined shapes
Unlimited text string distortion
Add path
Name drop
Multi-line, multi-color text
Tread trim between letters
Break Apart Text string
Join Sections (to branches)
Duplicate text string
Resize, Rotate, distort letters of text string
Lettering with automatic, adjustable kerning
Change text setting (typeface, text)
Reorder sequence of text string
Sequence Manager display letters
Lettering with intelligent closest point connection
Outline node editor
Change step angle of text
Show stitch and block Shadows
Movable entry, exit point of text string
Left, right, center and stretch justification
Shrink/Grow, stretch, rotate, slant, text using handles
Zooming tools
Print with technical information
Print in catalogue presentation
Print preview
Special Functions toolbar
Change color, background color
Load, save color palette
Temporarily hide rollups
On-line help, Advanced hot keys
Floating, dockable tool bars
Ruler, Measure
Place guideline by drag and drop
Adjustable Grid, Crosshair
Undo, Redo, Cut Copy Paste Deselect, Select All, Invert selection Pre digitized fonts
Change Start/End of design
Show stitches
Show embroidery sequence
Move, delete, insert stitch
Complete Clipart with hundreds embroidery designs
Create your own Clipart designs with the Clipart tool
Adjust the parameters of each stitch type to meet your embroidering preferences.
Make embroidery design easily and quickly.
Includes 256 pre-digitized fonts
Edit existing pre-digitized fonts
Create embroidery designs with Running, Satin, Zig-Zag, Step, Satin Serial, Zig-Zag serial and Piping stitch types.
Available Stitch types and parameters for Text punching objects
Satin stitch type parameters
Adjust Density
Choose Underlay
Add / Remove Fix/Lock
Enable / Disable Corners
Increase / Decrease Compensation
Add Short/Long technique
Add Half-pitch compensation
Piping stitch type parameters
Adjust Density
Add / Remove Fix/Lock
Change stitch Length
Stippling stitch type parameters
Change stitch Length
Add / Remove Fix/Lock
Satin serial stitch type parameters
Adjust Density
Choose Underlay
Add / Remove Fix/Lock
Enable / Disable Corners
Increase / Decrease Width of stitches
Add Short/Long technique
Add Half-pitch compensation
Generate As Zig-Zag serial
Running stitch type parameters
Change stitch Length
Add / Remove Fix/Lock
Zig-Zag stitch type parameters
Adjust Density
Choose Underlay
Add / Remove Fix/Lock
Enable / Disable Corners
Increase / Decrease Compensation
Add Short/Long technique
Add Half-pitch compensation
Step stitch type parameters
Adjust Density
Choose Underlay
Add / Remove Fix/Lock
Change stitch Length
Increase / Decrease Compensation