Basic module™
THE VIDEO
---
The Basic module is the starting module of the software! The rest modules are bind to this one (View modules outline)! It contains all the basic functionalities that modular has, including on-line help! By purchasing the Basic module you will get also
more than 3000 resizable embroidery designs ready to be embroidered,
Quick reference card with which you can work faster, smarter and increase productivity in embroidery design creation
guide for installing and Customizing Wings' modular
and Manual in PDF format
The Basic module features are listed below:
Working with files:
New interface and new 3D working space
Load Designs
Save a design in the Hard disk
Save a design in the hard disk with a new name.
Read from machine floppies
Write in machine floppies
Format machine disks
Browser Explorer like
Recent files
Send designs via email
Search option by: Size / Stitches / Dates / Customer / Designer / Keywords etc.
Single and Multi Print
Export to DXF format
99 thread colors in every design
More useful information about sequins and how they are applied were added into the software
Export the 3D realistic embroidery preview to embroidery look image and use it for textile printing or for promoting your work
Supported file formats :
Supported file formats

Wings 2000 (".mls")

Tajima (".dst", ".dsz", ".dsb")

Tajima TBF (".tbf")

Sunstar SWF (".sst")

SEF xp (".sef")

Pfaff (".ksm",".pcs",".pcm")

Bernina/Melco expanded (".exp")

Melco Condensed (".cnd")

APS/DOS (".stc", ".pch")

Singer (".xxx")

Brother/ Baby Lock/ Bernina (".pes")

Brother/ Baby Lock/ Bernina (".pec")

Husqvarna (".Hus")

Husqvarna Viking (".Vip")

Viking Designer 1(".shv")

Janome (".Jef", ".sew", ".Jef+")

Juki (".M3")

Happy (".tap")

Toyota (".10O")

QuiltCAD (".hqf")

PC Quilter (".txt")

Statler Stitcher (".qli")

Mitsubishi HD (".1??")

Barudan FDR (".U??")

ZSK TC (".Z??")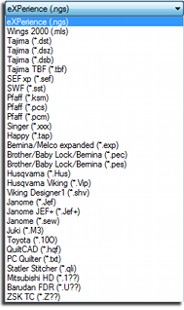 Viewing Tools: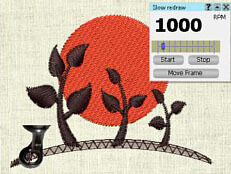 Embroidering process simulation tools(slow redraw)
Zooming and Panning tools
Show the design in actual size and pre-selected scale
Show/Hide objects for easier digitizing
Various ways to make selections (Select all / Select None / Invert Selection / select by color / select by stitch type / Also with the mouse)
3D preview and Edit designs
Grid and Guidelines for creating accurate designs
Show/Hide design's outline
Show/Hide needle penetration points
Show stitches up to cursor position tool
Show information on the selected objects
Measure the designs with the measure tool
Customize the color and the thickness of all inserted outlines according your preferences
Produce more realistic 3D effects on your embroidery designs by changing the light source
Fully customizable workspace according your preferences. Adjust it once and lose no time while creating embroidery designs
Editing Tools: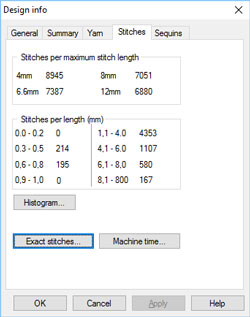 Re-ordering tools for changing the embroidery sequence of the design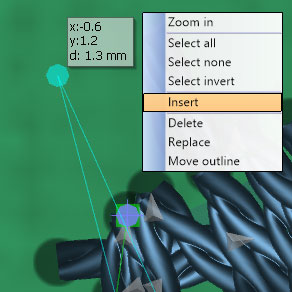 Complete stitch editor that allows you move, delete and insert multiple stitches

Full design information that can help you organize your designs and take decisions on how the design have to be embroidered.

Show Stitches per size / Histogram

Time calculation per machine type

Actual stitches per machine type

Stitches and Yarn length per color

Number of sequins per color

Scale and Rotate the entire design

Adjust the density automatically when resizing stitch files (.dst etc.)

Add/remove special functions in objects

Thread trim

Stop

Jump stitch

Frame out

Sequins

Borer

Applique

Slow speed

Borer Depth

Move/Delete parts of the design

Connection tools:Create rectangular arrays of the designs
View embroidery sequence from the Sequence Viewer
Full Thread palette color management

Create new thread colors
Edit/Delete colors, except the thread palettes from the thread companies
Select colors from thread companies color tables
Change colors of designs and backdrop
Palette creation based on thread companies Color palettes

Move Start/End points of the embroidery design
Cut, Copy and Paste embroidery designs
Undo, Redo functionality
Organize and edit groups of objects by using the Group and Ungroup options
Serial connection with Embroidery machines: Tajima - SWF - KSM - PFAFF - TOYOTA - Happy
Connection with Memory Box
Possibility to create your own Plug-ins for export or import
Ability to import /read and export/ save to 8-channel tapes.