Venere module™
THE VIDEO
---
With this module you can make Venere cuts in the fabric. You can design the area you want to be cut with "Venere cutting" like creating an outline with Running stitch. Your embroidery machine will process the information and will cut the area you have design accordingly. Together with Venere module you will get 4 Venere cut needles.
This module requires the Basic module to be installed.

Create a New Venere designGeneral tools:
Edit Backdrop properties
Add a Bitmap or Vector image in the design as a backdrop
Change the entry point of the selected object
Change the exit point of the selected object
Insert special functions
Ability to clear transformations from objects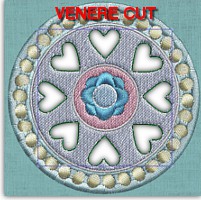 Node Editor
Delete selected Node
Insert Node
Move selected Node
Move tangents of Nodes
Make nodes Smooth
Make nodes Cusp
Convert curves to lines
Auto-fit highly transformed curves to object's shape
Add direction of stitches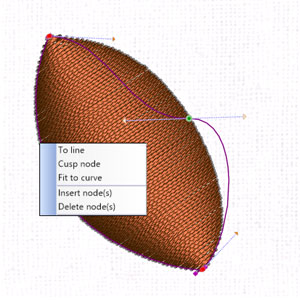 Edit the selected Objects by using mouse:
Scale both or one of the co-ordinates (stretch)
Rotate of the selected objects, also by changing the rotation center
Slant of the selected objects, also by changing the slanting center
Array the selected objects

Transform selected objects by creating copy or not:
Move selected object with mouse or with specific number input
Rotate selected objects.
Scale selected objects, proportional or not
Mirror the selected objects Horizontal or Vertical
Venere cutting parameters:
Length
Fix and Locking stitches
Offset of the stitches according to the outline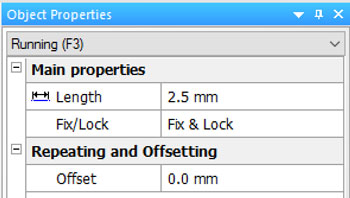 Learn about the New Venere cutting System.