---
This module adds cross-stitch embroidery type to Wings' modular! It has superior cross-stitch generation with auto-branch and unequaled quality. It is easy as 1,2,3, start punching single crosses, remove crosses, draw and remove tackings. You can punch with ease straight lines, curves, basic shapes such as rectangles and circles, ellipses filled with cross-stitches or not. Multi-color cross-stitch together with a powerful auto-branching system is also included. This module requires the Basic module to be installed. All the features are listed below:

General tools: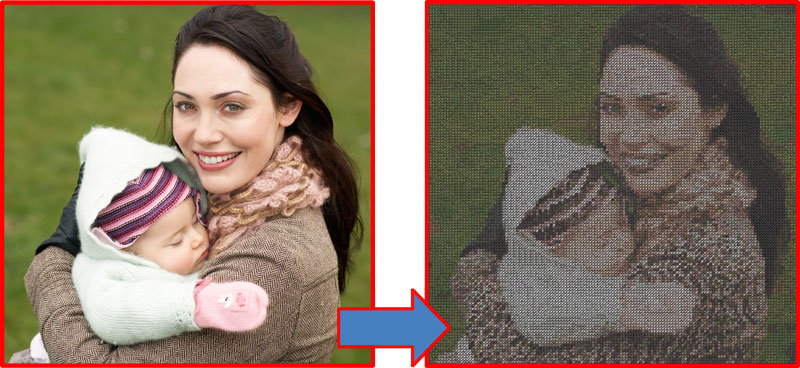 Edit backdrop properties
Add a Bitmap or Vector image in the design as a backdrop
Change the entry/exit point of the selected object
Single Section digitizing
Available Stitch types for Text input and parameters for the existing punching objects
Re-sequence objects by click and dragging the objects on the Sequence manager
If you have Digitizing and Designer modules also, you can convert any image to cross-stitch automatically with some clicks.
Node editor: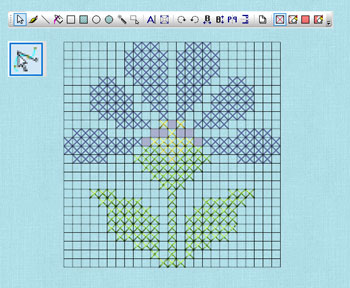 Delete selected Node
Insert Node
Move selected Node
Move tangents of Nodes
Make nodes Smooth
Make nodes Cusp
Convert curves to lines
Auto-fit highly transformed curves to object's shape
Add direction of stitches
Edit the selected Objects by using mouse: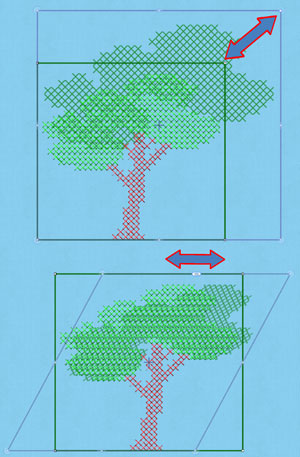 Scale both or one of the co-ordinates (stretch).
Rotate of the selected objects, also by changing the rotation center
Slant of the selected objects, also by changing the slanting center
All the above mentioned modifications can be done by creating a copy of the original Object(s) also
Array the selected objects
Drag and Drop part from one design to an other
Transform selected objects by creating copy or not:
Move selected object with mouse or with specific number input
Rotate selected objects
Scale selected objects, proportional or not
Mirror the selected objects Horizontal or Vertical
Cross-Stitch stitch type tools:

Add/Remove Cross stitches or path with a single click

Add/Remove Cross stitches or path with click and drag

Add/Remove Cross stitches or path by drawing lines

Fill a closed area with Cross stitches or path with the Flood Fill

Draw a rectangle made from Cross stitches or path

Draw a rectangle filled with Cross stitches or path

Draw a Circle or Ellipse made from Cross stitches or path

Draw a Circle or Ellipse filled with Cross stitches or path
Add Text made from Cross Stitch or path
The Magic wand is the easiest way to select difficult areas (shapes)
Select the crosses you wish by specifying the area
Cut/Copy/Paste the selected Crosses
Rotate cross-stitch object
Bold the selected Crosses horizontally or Vertically
Mirror the selected Crosses horizontally or Vertically
Duplicate and modify the dimensions of the current canvas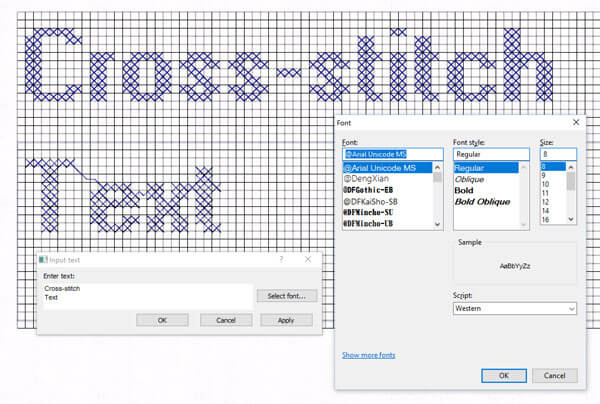 Cross-Stitch parameters for existing punching objects:
Adjust width or height of Crosses.
Add fix and locking stitches on each cross-stitch object
Adjust number of repeats per Cross
Short/Long On/Off switch
Star